Wool Carpets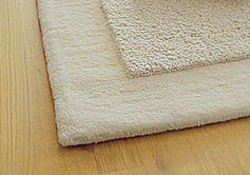 Wool rugs or carpets are luxuriously comfortable, warm and soft, yet resilient; they can endure the toughest handling and look magnificent for year to come. Wool has represented the standard of quality against which all other rug fibers are measured but most importantly, is a wool rugs natural beauty and aesthetics, its inherent resilience and stain resistance, and its natural durability.
There are more than 200 breeds of sheep currently in existence. All of these were developed from the wild sheep of Europe and Asia. The supply of this popular and durable yarn fiber has never been greater. Industry experts consider New Zealand wool to be the finest available for carpets and wool rugs. New Zealand wool is considered to be the whitest, cleanest, purest wool in the world.
Every wool rug has a particular texture that reflects the level of softness found in the finished product. The method of grooming, shearing and processing of the wool fiber can vary widely among rug manufacturers. Many other factors contribute to the softness of wool. Texture varies significantly across the body of an individual sheep. Even the actual sex of the sheep can be a contributing factor. Add in nutrition, age and general health of the sheep and you can see why there is a broad range of quality in this natural fiber.
Natural wool area rugs age gracefully over time, while synthetic fibers will become scratched, scarred and dull. Wool rugs and carpets will remain vivid to the eye and soft to the touch. Wool rugs will retain their color for the life of the carpet despite wear and cleanings. Plus, a wool rug has good soil resistance due to its natural moisture content and has excellent pile resilience.
Wool rugs and carpets are easy to maintain. When price is no object, the best carpet and rug fiber is wool. If you were to look at wool fiber under a microscope, you would see that its surface is made up of overlapping scales,much like a roof. These scales trap soil and dirt at the top of the fiber, near the surface of the carpet or rug. It is then easily and quickly released when vacuumed. Wool blends, usually 80% wool and 20% nylon have a larger market segment than a decade ago. However wool will stain or bleach in reaction to some spills and is not as easy to clean as nylon.
Enhance your personal environment in every area of the home with the natural properties of wool:
Comfort: By dispersing moisture, wool rugs provide a reliable under foot temperature all year round. It will therefore, keep you cool in summer and warm in winter. Plus, wool has the ability to absorb up to 30% of its own weight in water vapor without feeling wet and therefore, helps to control humidity.
Safety: With its natural flame resistance and anti static properties wool is one of the safest choices for area rugs and carpeting. Wool it is difficult to ignite, due to a higher ignition temperature; has a low flame-spread, does not melt and contributes less to smoke or toxic gas formation compared to synthetic carpet pile fibers. A pure wool rug or carpet also complies with many international flammability regulations eliminating the need for additional, expensive flame resistant treatments.
Health Benefits: Wool rugs and carpets are non-toxic, non-allergenic and will not support bacterial growth. In addition, wool purifies indoor air of common contaminants like formaldehyde, nitrogen dioxide and sulfur dioxide by locking the contaminants deep in the core of the fiber. Wool rugs and carpets continually cleanse indoor air for up to 30 years.
Noise reduction: Wool contains natural noise absorbing fibers helping to reduce the stressful hum of everyday living.
Durability: A wool carpet will retain its appearance and durability over other fibers, providing outstanding quality and value for money.
Wool is a renewable resource